Lycos mail is a first option for Lycos.com website. To use your Lycos login and password, click on a "MAIL" option. You will see the window containing the main login Lycos form.
Images from www.lycos.com
The "Member Name" field is for your Lycos.com login, and the "Password" field is, obviously, for a corresponding password. Enter the both login components and click on a "Sign In" button.
What Is the "Remember" Option?
You can mark the checkbox called "Remember me on this computer" to stay signed to Lycos for an indefinitely long time. Do not use this option for publicly accessed computers or for mobile devices unless you are feeling absolutely no risk of compromising your Lycos mail content.
Obtaining a Lycos Mail Account
The registering procedure for Lycos is relatively simple. Firstly, select which account type you want to have. You may choose between the "Free" and the "Plus" options. You can click on a "What's the difference?" link below the registering buttons to learn more about these options.
Sample Signing Up
Let us describe the "Free" option. Click on the "Sign up for Free" button, and you will see the next window containing a registering form: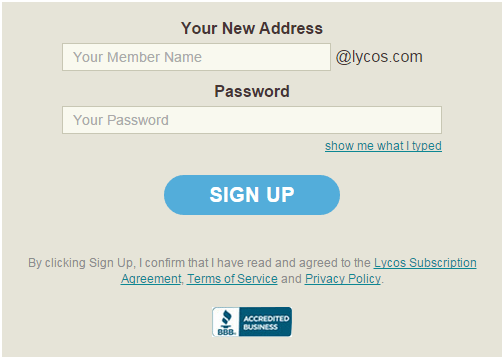 As for entering the Lycos mail, type your new login into the "Your Member Name" form and your password into the "Password" form. (Click on "show me what I typed" link to view your password when you are typing. Remember: this is not a secure option!)
After finishing, click on a big "SIGN UP" button. The three links below provides you an appropriate law, technical and privacy information you may want to read before signing up. Then complete some other steps for finishing registering your Lycos mail login, and start to use it as described before.
Notes about Passwords
Always try to select a password both easily remembering for you and toughly decrypted by any other person. Therefore, do not use passwords containing parts of your login, your obvious personal info such as a birthdate, natural sequences of letters and numbers such as "qwerty" or "12345" and so on.
What to Do If I Forgot My Password?
To restore your password, please click on the "Forgot password?" link on the main form, and then follow the instructions provided. The website will provide you a password for your Lycos mail account.
If you feel you lose your password too frequently, maybe some password-keeping software, like Handy Password, can help you keeping all your logins and passwords in security, guarded by just one master key.