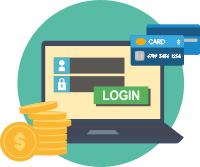 Online banking, also called Internet banking, allows you performing banking operations through the Internet connection, instead of visiting a bank office. To use this service, you can sign in to an online bank account when and where you need it. For traditional banks, this is only an option, but there are many banks that work strictly online.
Advantages of Online Banking
Internet banking services are very convenient and it is the main advantage. You can pay bills or transfer funds whenever it is necessary for you. Moreover, the funds are transferring immediately between accounts, especially if they are of the same bank.
In most cases, clients do not need to install additional software, so they can log in on either a PC-compatible computer or all kinds of portable devices such as phones and tablets. The operations are performed on the site of the bank itself, which can be accessed using any Internet browser.

Another great advantage is online banking security. Constant availability of your banking account at hand provides early detection of fraudulent practice that may cause financial loss. Confirmation of remote operations is performed by an electronic digital signature, a one-time password or a special payment password. It depends on the bank's capabilities and user preferences.
Tariffs for banking operations, such as transfer from a personal bank account to an account of another bank, conversion, payment for services, in an Internet bank are generally lower than those in a traditional bank. This is due to the fact that the logged-in client performs the role of an operator.
Electronic Payment Systems
The progress of Internet technologies and a resulting development of online banking have made the necessity and popularity of electronic money. Consequently, electronic payment system is a highly important part of Internet banking.
There are three main types of such systems; each of them represents different ways of transferring money:
Credit Cards
The first one requires the use of a credit card (VISA, Maestro, MasterCard, etc.). The funds arrive in the merchant account, the processing center is responsible for the money transaction and the card data processing. It is common to choose the processing center first because it cooperates with several banks, and then choose the bank that you will sign in to. Otherwise you may not use the desired processing center for your Internet bank account.
Debit Cards
The second way is using debit cards. This payment system includes electronic check (NetCash, NetBill, etc.) which is an obligation of banks to transfer from one account to another, using electronic forms of a check and electronic digital signature.
Money Transfer System
The third one is connected with digital wallets etc. Although both aforesaid types combine the operation of different organizations, this one gathers responsibility, control and conditions around the only one. That is why many people consider this type as the most convenient for online banking. The most popular examples of electronic wallets are QIWI, Webmoney, Paypal, etc.
More about online banking
---
---
---
---
---
---
---