To operate with Deutsche Bank account online, you have no need to create a username; this bank will accept your account number (see the picture below) as an approved Deutsche Bank onlinebanking login.
Note: To see the picture like below, click on the "English Version" link at the top of Deutsche Bank Internet banking login page. By default, you will see the German version instead (because it is a Deutsche Bank. Check also that the German page contains more helpful info than English page does!
Deutsche Bank Banking Login Options
If you have a WebSign, whatever you can obtain it, you can sign in to Deutsche Bank online service using it; just select an appropriate tab on the login page and wait to an applet operating with WebSign will start completely.
Another option is using your account number and PIN as Deutsche Bank login. Enter the digits required from you, and then click the "Execute Login" button. You can also select an option for your Deutsche Bank customer login operations, using the "Directly toЂ¦" drop-down list for choosing.
Security Options of Deutsche Bank Log In System
Some browsers can auto-fill the fields used for entering your Deutsche Bank customer login every time after the first connection with your Deutsche Bank account. Please do not use these options; this is highly insecure. (It seems the Deutsche Bank online banking suppresses standard auto-filling.)
You can use the Session-TAN for securing your brokerage transactions. Clicking on the "?" icon against this option, you can read a long explanation of TAN rules and benefits in a new window. Deutsche Bank online operations requires only one Session-TAN for each transaction.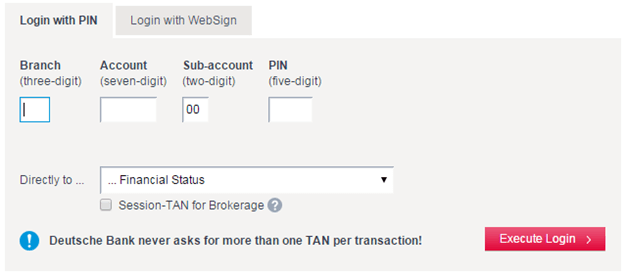 Screenshot of Deutsche Bank website meine.deutsche-bank.de
Speak the Language of Heinrich Heine!
As noted at the beginning of this page, Deutsche Bank sign in page is much more informative and helpful in German version than in English. In the age of Google Translate, the language barrier can be penetrated without many efforts. Translate German texts online, to give advices and help!
You can also use this "multilingual" approach by a different way, asking some search engine with a foreign language query such as "mein Deutsche Bank login", and then translating some advices for local users of Deutsche Bank customer login, often more informative than pages for foreigners.