«Someone has created an Instagram account in my name. What should I do if someone created my fake Instagram account?" These questions are still numerous, and let we try to tell you how to close a fake Instagram account and to report about unscrupulous activities.
Basic Questions and Answers
Q: Someone created a fake Instagram of me. What should I do?
A: You must report about a fake account to Instagram team, and, perhaps, to your followers and even to your lawyer or to police (if a fake account damaged somewhat in your life).
Q: How do I report an impersonation account on Instagram?
A: Please use a dedicated form in the Instagram service center (you can find it in a help and service section). You can either send a form from an Instagram app or directly through a website.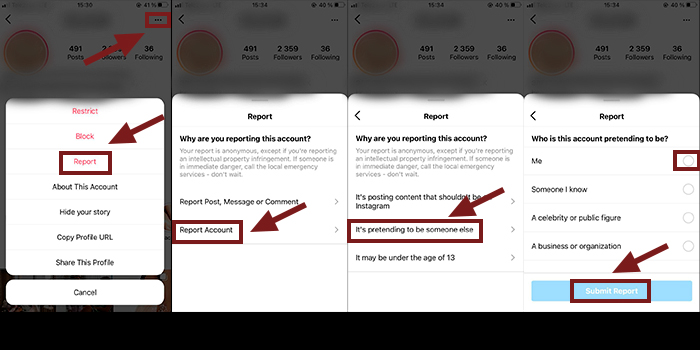 Screenshot of the Instagram mobile app
Q: How can I know how to hack my Instagram account?
A: The most direct way to uptake your Instagram account is to steal or to pick a password. Therefore, keep your passwords in security and do not use obvious combinations as Instagram passwords!
Q: What to do if someone on Instagram impersonates me without harmful actions?
A: This is still against the rules. You cannot know what a "harmless" pranker will do next. Therefore, stop the activity of this person as soon as possible.
Q: Someone created Instagram with my email or my name. Is it dangerous?
A: Sure. You can even be a subject of police procedures if someone uses your account for criminal actions. Therefore, stop it as fast as you can!
Q: How to close a fake Instagram account?
A: After receiving your complain about a fake Instagram account and checking all issues, the Instagram team will close a fake account automatically. Do not worry about it!
Content-related Topics
Q: Someone used my photo without permission on Instagram. Is it legal? What can I do?
A: For most cases, copying and publishing your photos without permissions is from declined to strictly illegal, depending of content and circumstances. You must complain to Instagram team by using the dedicated form.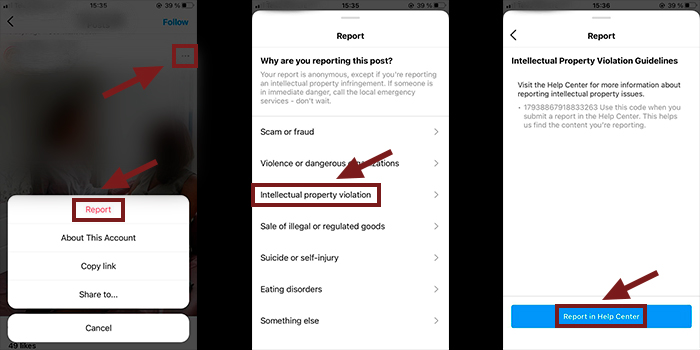 Screenshot of the Instagram mobile app
Q: Someone is using my photo on Instagram, can I stop it?
A: Yes, you can. Before taking some other action, send a message for a user with a requirement to stop using your photo. If a user removes it in a reasonably short time, all is OK. In other case, just report about an illegal content using an appropriate Instagram form.
Read our next article if you need help
recovering Instagram account
.