Tumblr Login is a perfect way to enable your creativity and share it with the world! This article will help you not only to register on Tumblr, but log in from both the mobile and web version of the website.
Tumblr is a multi-purpose social media whose main task is to share posts with everyone. Its users can create all types of posts including photo, video, text, audio and a combination of these on their blogs. Blogs can be followed by other users and anyone can note (like) and repost any blog entries. Typically, you can find posts on topics that you're personally interested in by using tags.
Tumblr is very popular among young people with over 642 million creative and positive monthly active users.
Tumblr Log In
There are two places where you can sign in to Tumblr. People more often use the website that can be found online, but for better mobility, you can choose the Tumblr app that is available for all smartphone platforms.
Logging in on Tumbler online
Go to tumblr.com by typing the address in your search bar and click 'Log In'. You will be redirected to a page where you can start the process by typing your email and password. Then click "Log In". There are also two additional possibility: login via Google Account or Apple ID. With that done, you can proceed to use Tumblr.
Screenshot taken from website tumblr.com
Signing in on Tumblr via app
First, download the app from your operational system's default app store. Then launch the app. It will greet you with the screen that will suggest you either to sign up or to log in on Tumblr. Tap 'Log In' and enter your email address. Then tap 'Continue'. No matter what you choose, after that you'll be able to use Tumblr soon after that.
Tumblr Sign Up
Don't have Tumblr account yet? You can set up it with a mobile app and website as well, and here's how:
Sign up new account on Tumblr via website
Go to tumblr.com but this time pick 'Sign Up' option. This action will take you to the page where you can create a new Tumblr account by entering valid email address, password (there are no limitations on that, but try to make it strong and secure) and a unique username. As for a strong passcode, you can select the suggested Google Chrome if you are using the browser. About the blog name: Tumblr offers several available options if you're hesitant to come up with one yourself. There is no confirmation needed so you can proceed with your new blog right after you've picked three first blogs to follow.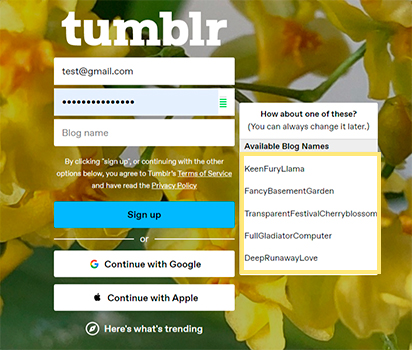 Screenshot taken from website tumblr.com
Create new Tumblr account on Tumblr using app
Launch the Tumblr app and tap on 'Get Started' on the screen. The registration data that you need to fill in is the same: username, email address and a password. Tap 'Sign Up' when you're finished. Then find some starter blogs to follow, choose the topics that you interested in. This will complete your registration.
Find out also about logging into Reddit.