Logging into Telegram is easy and really fast. This page will focus on how to login to Telegram whether you're using a phone or a web version and will tell how to create a new account for Telegram.
Telegram is a messaging app that focuses on speed and security. It claims to be the most fast and simple, uses cloud-based storage that allows you to sync all your devices and more. Telegram is best known by its security standards that protect your data from being stolen.
Telegram users can experience a wide variety of fascinating features like: creating a channel to share knowledge, pictures and music, unlimited free stickers, option to send documents of any type and the most interesting one, the secret chat that self-destructs after a while.
The process of logging in on Telegram is really simple. This app won't ask you to create password - it will send a new one to you every time you've decided to login. This, however, brings a striking disadvantage: shall you lose your phone number and you'll be never able to use your Telegram Account again. The other flaw of this app is that you cannot use email address or user to login. Just your mobile number. Let's see how to do it on Telegram.
Log in on Telegram
There are three ways how to enter the Telegram app: online, desktop program and mobile application. You can choose either of the list because they all are fully-fledged variants of the app.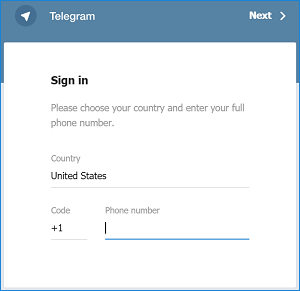 Screenshot of Telegram website telegram.org
The same three options are available in another popular messenger, WhatsApp. Learn about WhatsApp login or sign up with phone and without.
Telegram Signing in Online
To sign in to Telegram online you will need to go to the official website "telegram.org", scroll to the end of the page and go to "Desktop Apps" - "Web-browser". This will redirect you to the login page.
You will need to enter your phone number and wait until the system will send you a text message containing the code that will allow you to login on Telegram. After you've entered that code, you will be able to use the Web version of Telegram instantly.
Telegram Sign in on Desktop Version
To use Telegram on your computer, you will need to download it. You can do this by launching "telegram.org" and going to "Desktop Apps" - "PC/Mac/Linux". This will redirect you to the downloads page. The version of the app will be displayed automatically depending on what operating system is supporting your device.
When the app is launched, click "Start Messaging" to go to the login page. You will need to enter your mobile phone number and request an SMS-message with a security code. After you've received and entered that code, you're free to use Telegram.
Telegram Sign in on a Smartphone
First, you will need to install the app. Fortunately, you can get it for free in Google Store and Apple Store. After you've downloaded the app, launch it. The app will guide you through Telegram benefits and will suggest you to start messaging. You should click on that button to continue.
Then you will need to type your phone number. You will get a confirmation code that you will need to type inside the field. When it's done you can proceed to start using Telegram.
Sign Up on Telegram
Never used Telegram before? It's a matter of seconds to get a Telegram Account so we will show you how.
The process is similar to logging in. You will need to get the version of the app that suits your device and launch it. First time users get a suggestion to type on their phone number as well as those who already used Telegram once. After you've entered the phone number, you will get a confirmation code via text message. If you're using desktop apps, you will need to enter it by yourself, mobile users get the auto-fill function that detects the SMS-message with the code and fill it in as soon as it arrives.
After that you can start using your Telegram Account. You can change your profile name, picture and add more accounts.
Hope this article was helpful!
Learn more: How to sign in Facebook, How to Create Pinterest Account, How to Login Youtube Page