To use your Axis Bank online, please register and utilize your personal Axis Bank login. This article contains instructions and tips for choosing and using Axis Bank netbanking login and password.
How to Call for Axis Bank Login Page
Open Axis Bank website and find the "Speed Banking" panel on the right side of it.
Click on "Register" to create a new Axis Bank online access to your account, or else choose the "Login" option for applying your existing Axis online banking login.
Axis Bank Login Registration
By clicking on "Register", you will see the new page allowing you registering the Internet access to your Axis Bank account. You would be provided with an extended help section about every case of Internet banking registration (see the form below).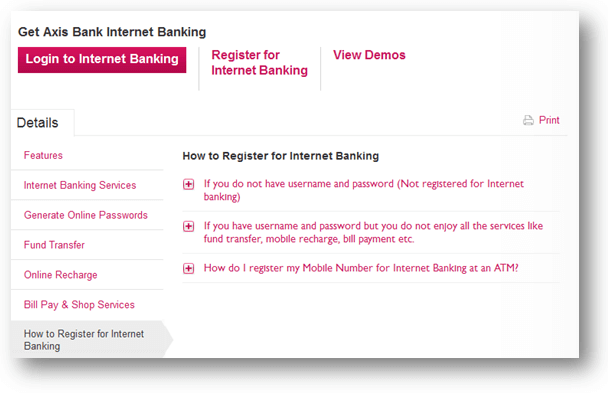 Note: You must be a client of Axis Bank to register, having an active account in this bank!
The registration procedure is only partly online. You must provide the signed form for Internet access registration to the nearest branch office of Axis Bank, or use the Axis Bank ATM to register your phone number and some other account details required for Internet access.
After all these operations are complete, you will receive a message on your Email containing your Axis Bank Internet access Login ID and password. Use these data for Axis Bank login.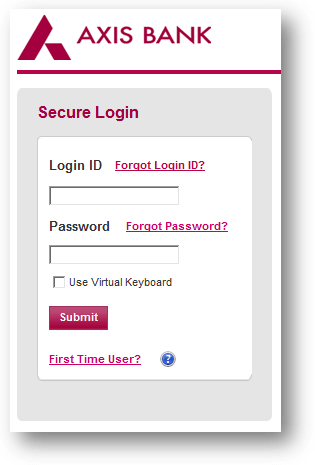 Entering your Existing Axis Bank Account Login
If you click on "Login", you will be redirected to the next window containing some security and legal information. Proceed by clicking on a banner inviting you to continue, and you will see the next page with a login form in the top-left section of the page.
Enter your Axis Bank login and password into the appropriate fields, and then press "Submit" to get a full access to your account. Now you can use all functions of net banking, include operations with travel cards, home loan, currency exchange, funding withdrawal and so on.
Retrieving Your Axis Bank Net Login and Password
To restore your forgotten login Axis Bank allows you sending an SMS to the bank, as shown on the popup window emerging when you drag the cursor over the "Forgot Login ID?" option.

You can also restore the forgotten password when you know your login. To do it, click on the "Forgot Password?" option on the login form panel (see above). You will be logged out, and after that, you will receive the new password onto your E-mail provided upon the registration.
Security Measures and Precautions
Firstly, please do not use your Axis Bank online login on the places with non-restricted access, e.g. with non-encrypted WiFi or from different public computer terminals. Your login and password could be stolen, causing some problems from complex security measures to total financial loss.
Another problem is the necessity to save your Axis Bank netbanking login data from attempted or casual theft. Do not keep your banking data on mobile devices you are carrying. As an extra measure, use some password-keeping software, such as Handy Password, to save your Axis Bank personal login data.