Facebook Messenger login is a must-do procedure if you want to exchange messages with your Facebook friends. While Messenger is optional for those using the web version of Facebook, the app won't let you send messages if it's not installed.
Messenger has quite a history, first being the default method for Facebook users to chat with friends. In 2011, Messenger became a separate app and its features were expanded for more productivity.
Nowadays Facebook Messenger is one of the most used messenger apps in the world with up to 1.3 billion monthly active users. Want to become one of them? This page will assist you in this task.
How to Login to Messenger
There are two methods of Messenger usage available: online website and mobile app. If you are an active user of Facebook, you're probably already familiar with the process. If not, let's walk you through it.
Facebook Messenger Login Online
To sign in to Messenger online, you should go to "messenger.com". Note, Facebook account is required to login to the Messenger website.
Don't have an account yet? Check out how to sign up to Facebook!
Type your email address/phone number, password and click "Sign In". Now you can use Messenger to chat with your Facebook friends and mobile contacts for free.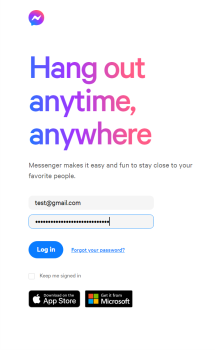 Screenshot taken from website messenger.com
Facebook Messenger App Login
To login to Facebook Messenger on your smartphone you need download and install the app first. You can get the app without a problem at Google Play Store and Apple Store respectively for your supported operating system.
There are more options to sign in on Messenger with app, than on web version. You can login either with your Facebook account or with your mobile number.
Logging into Facebook Messenger with Facebook Account
Launch mobile Messenger. The Facebook and Messenger apps connected, and if you're logged in to the Facebook app, you will be automatically logged into Messenger.
If this doesn't happen you'll see the prompt to login via Facebook. Enter your email/phone and password. This will log you into the app.
Logging into Facebook Messenger without Facebook Account
Note: this way of logging in ONLY works if you're already registered with your phone number in the app. Otherwise, proceed to the next section of the article to get registered first.
To login without Facebook Account, launch the messenger app. It will suggest you to login. Type your phone and password where prompted, then tap "Log In". You will be redirected to the main page and can proceed using the app.
Logging into Facebook Messenger lite
The process is the same as for usual app. Download Messenger lite for iPhone is impossible, though. If you have the software on iOS, you should delete it, install normal one and log in using the instruction below. Don't worry, all the data will be available.
How to sign up to Facebook Messenger
You don't need to register for Messenger, if you already have a Facebook account. There is no way to sign up to messenger without Facebook anymore. Download the app and it will offer you switch on Facebook to confirm the account or sign up there.