To sign in to Badoo, you can use your Facebook account. Badoo states that it do not connected with your Facebook; therefore, if you already entered to Facebook, just go ahead.
Another option for a mobile Badoo version is a Google+ sign in. The Badoo login PC page allows much more options, including such well-established worldwide, Asian and Russian social networks as Twitter, VKontakte and Yandex login.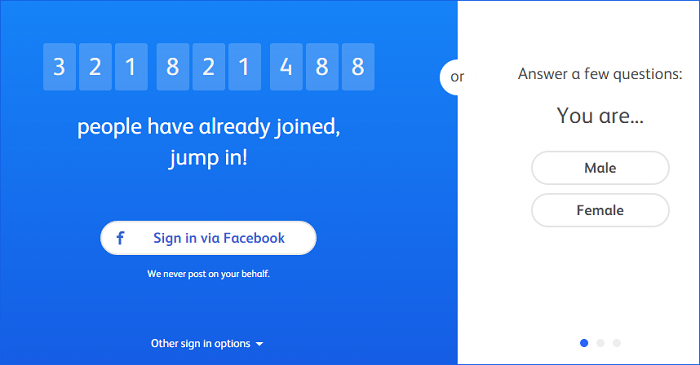 Images from badoo.com
Using a Regular Badoo Login
An alternative for using a social network registration is direct sign in to Badoo. To do it, you must have an active Badoo account (see below how to create it). This instruction is about how to login to Badoo directly from its main page:
Locate the "Sign In" button at the top right corner of the main Badoo page. Click it.
Badoo will open the new page. Here, enter your email and password. Click "Sign me in!"
If you want to stay connected to Badoo, please mark the checkbox "Remember me".
That is all. The website will accept your Badoo log in data and connect you to Badoo without any other questions. Proceed!
Note: Badoo mobile login has another option for sign in Badoo site, which allows you using your phone number instead of your email as your unique login info.
Create New Badoo Account Login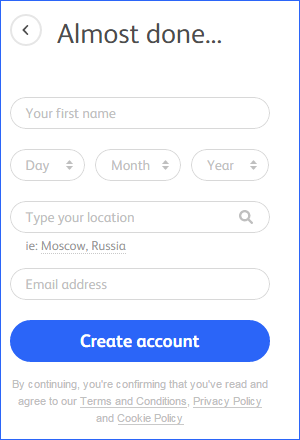 To create Badoo sign in data (where your login name is either your email or your mobile phone number), you can sign up using an option provided by Badoo just on the main page.
Firstly, answer Badoo to a bunch of typical questions, including your gender and your main intentions for using Badoo (such as options of meeting, dating and chatting). It is a quick and secure operation.
The next principal step is signing in Badoo with your email address. After answering the questions, enter your name, your birthdate, then select your location and type your email for entering Badoo.
Note: You must select your location by typing and then accepting some suggested place, instead of just typing it! If you type your location, you can receive an error message, which means you just may select a location from a list created by Badoo.
After answering all the questions, Badoo will prompt you to enter a password for your login. Note that if you are using some social network to log into Badoo, you have no need to use a password.
Sign On Badoo Instead of Signing In
You can create a new Badoo account from the sign in page, using the "Sign On" button on the top right corner. The procedure is quite the same as that we demonstrated before.
Note that in this way, you will see all questions such as your gender and your primary goal for obtaining a Badoo login, on the same page.
Login Badoo Mobile Versions
As mentioned before, mobile version of Badoo login accept the phone number as a sign in data.
The Badoo mobile app has dedicated editions for Android, iOS and Windows Mobile. All these utilities are free.
Problems with Badoo login
When you sign in Badoo, you can suddenly expect some problems. Here we will describe most common problems and appropriate solutions.
Problem: I forget my password!
Solution: Do not worry; just use the "Forgot your password" link after the "Sign In" button. You will see the detailed instructions for password recovery.
P.: I forget my password for a Badoo account too often!
S.: Use some password manager such as Handy Password, which can keep all your passwords securely under the guide of one maser key.
P.: I have spam or unwanted posts in my Facebook (other social network) after login to Badoo with Facebook (or other)!
S.: Badoo does not post anything in your social networks! You are fall prone to some "phishing" website imitating Badoo. Your Facebook (or other) account is also compromised, and you must change the Facebook login data as quickly as possible!
P.: I worry about somehow can get an access to my Badoo account!
S.: Change your Badoo sing up data. In addition, do not use Badoo login in public places or public machines. For unsecure devices such as office computers, do not check the "Remember me" checkbox when you are logging in. Use "incognito" browser mode for casual Badoo signing in.