HSBC Online Malaysia banking service has one of most obvious, if not most developed, offsite banking infrastructures. The dedicated page (https://www.hsbc.com.my/1/2/personal-banking/online-internet-banking) contains many links to different methods of remote control of user account and describes security measures provided for these methods.
In this article we summarize the short tips and quick steps for using HSBC Malaysia Internet banking service without extra efforts.
HSBC Malaysia Login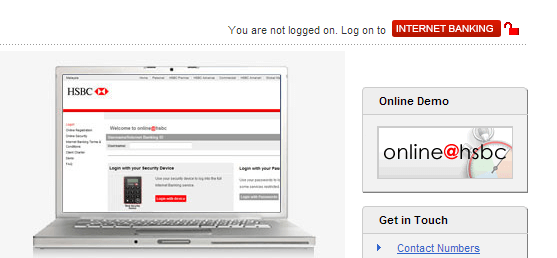 Screenshot of HSBC website www.hsbc.com
Firstly, click on the "Internet Banking" red button on the right. On the next page, enter your username in the field marked as "Username/Internet Banking ID".
For now, you are having two options. You may use the security device (somewhat unique HSBC Malaysia feature provided by the HSBC Malaysia online banking for securing your account), or follow the more traditional way and just enter the password. Below these options you can find a link to read about the both methods of using your HSBC Malaysia online banking login securely.
Registering as New User
On the logon page, find a link called "Online Registration" below the active link "Logon" on a left side. You will be welcomed to fill a registration form.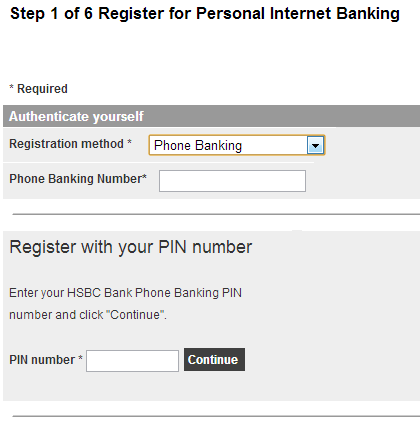 Screenshot of HSBC website www.hsbc.com
On the first step, select your registration and confirmation to HSBC Bank Malaysia. You may select the registration by phone number, by credit card or by ATM/debit card of HSBC Malaysia. Next steps will slightly differ depending of the method selected. On some step you will be asked to enter your future HSBC Malaysia login.
We are strongly insisting you must not use some obvious combinations as your login and password. This can be a fatal mistake when things roll about your personal savings in HSBC Malaysia bank! See also the next chapter for some other security tips.
After the registration completes, you may use your HSBC Internet banking Malaysia account as you wish.
Some Security Considerations
No one can compromise your HSBC Internet banking Malaysia account if you will follow some obvious security rules!
Do not enter your HSBC Malaysia login on public or using public computers!
Do not use auto-filling the form by the browser for your HSBC Malaysia online banking account, especially on your mobile devices!
Do not write your login and password on your notebook or guest card; keep it away from perils of outside world!
If you feel you may forget your login or password, use specialized utilities such as Handy Password, keeping securely all your logins under the guard of one encrypted master key.
Always log off and end the connecting session with HSBC online banking Malaysia when you finish.
These simple measures will guard your financial stability effectively against perils of IT world.
See also: Paypal sign in