Skype account recovery knowledge will come in handy to restore your access to free video-calls and text messaging. This article focuses on how to recover Skype password.
There are two situations in which you will need to recover your password. First, if your account was stolen by hackers and you need to regain access to your account. Second, if you happened to forget your password.
There are also some circumstances under which you would want to change your password just in case. This page covers all three ways of resetting the password.
How to Recover Skype Account
Primarily, let us establish that the methods that are described here can be performed on any version of Skype. The thing that matters is how you get to the login screen, which is automatic on mobile and desktop versions of Skype and you can get to the login screen of a website by clicking "Sign in" in the top-right corner of the screen.
Further steps are similar for any device of choice.
How to Regain Access to the Hacked Skype Account
Unfortunately, Skype rarely alerts its users of their Accounts being hacked. The signs of a hacked Skype Account are traces of logs from unknown devices, sudden logout from your account and weird spam messages that are sent to your contacts.
If you've found hints on your account being hacked, you will need to restore it.
Note: this method works only if you have linked email address or phone number connected to your account.
If you still got access to your account, you can go as far as simply changing your password to a more complex one. If you cannot login or you were logged out by system, you will need to go to website skype.com (or launch Skype application) and click on "Sign In" in the upper-right corner of the screen.
The login page will appear. You will need to enter your username. Then, there would be a password section. You shall click on "Forgot password" and then "Next". The system will ask you to verify your identity by sending you a text message on the connected phone number or an email to linked address.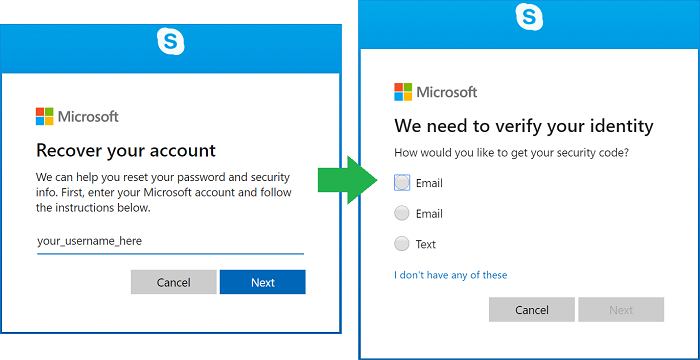 Screenshot of Skype website www.skype.com
Note: If a hacker unlinked your devices from your account, be sure to contact Skype support team for help immediately.
After you chose the method of verification, the code will arrive almost immediately to the preferred address. Enter this code in a placeholder and then you'll be taken to the screen where you'll be able to enter a new password.
Tip to avoid further account theft precedents: always pick a strong password. Hackers often use programs that are trying combinations of characters. The more diverse they are in your password, the harder it is for the program to pick up the combination. Use numbers, letters, upper and lower cases, make passwords longer than 8 characters. Avoid using your personal information or significant dates, especially if you got those published online.
How to Recover Forgotten Skype Password
The method that was described above also suits if you want to recover forgotten Skype password. You will also need to verify your identity, even if the account wasn't stolen.
How to Change Skype Password
Changing Skype password once in a while is a good habit that will prevent account theft. Keep in mind that passwords that you use shouldn't repeat across all of your accounts - this will make all of your account extremely vulnerable. If one is taken down, all of them might be as well.
Feel an urgent need to change Skype password yet? We'll show how to do it anyway!
To change your password, you will need to login to web version of Skype. You cannot change your password using mobile application.
After you've logged in, go to the upper-right corner of the screen and click the icon that is your user picture. Click "My Account" from the dropped menu. Scroll down to "Account Details" and "Settings and Preferences".
Click "Change Password". This action will take you to the page where you can enter your new password. Click "Save" and you're done.
Tip: Skype recommends to change password every two months. You can add a reminder to change password.
Learn more: How to recovery Youtube account