Login and Sign up for Skype are the things that are being discussed on this page. Proceed if you want to gain knowledge on how to login or create a new Skype account if you don't have one but wish to get it.
Skype is an application that allows users to make online video calls, exchange text messages and even make calls on the actual cellphones (you will need to pay for those calls though). Skype is one of the most popular application for web calls on the market with over 660 million users worldwide.
To start your Skype experience, go through the article.
Log into Skype Account
You can log into Skype using several methods: online, from the computer or by a mobile application. We will explain how to handle each of these methods.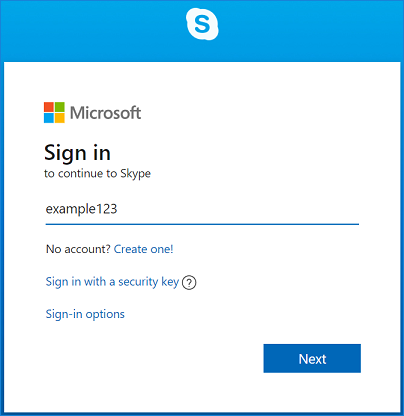 Screenshot of Skype website www.skype.com
Signing in Skype Online
This way of login to Skype is the easiest one. All you need to do is to go to website skype.com and click either the "chat now" button that is right in front of you or click not so obvious "sign in" link in the top right corner of the screen. Both of those actions will lead you to the sign in page.
Once you've reached that page, there is a few options that Skype suggests you to login with. You can either pick your username and click "Next" or you can use a security key (this feature requires setting it up before trying to sign in with it) or sign in using your GitHub account. Whatever you decide to choose, the next step requires to enter the password.
After you've entered both username and password, you will be redirected to your account's main page and may proceed to enjoy the chatting.
Signing in Skype Using Desktop Program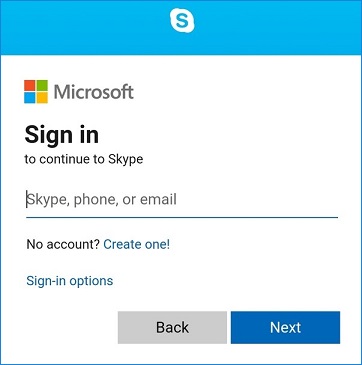 Screenshot of Skype website www.skype.com
For this one, you will need to actually download Skype. You can get it for free by going to the Skype website into the "Downloads" section. Here you can pick the version of Skype that suits your operating system. They even have Skype for Linux! Isn't that neat?
Once you've finished downloading and installing Skype, launch it. The program will greet you with a login screen that is very simple to the one of website version. Here you can type your username, click "next", type your password and then you will be logged into your Skype account.
The options of using the security key or GitHub account are also present. You can also create a new Skype account from this screen if you wish.
Skype Login from Mobile Application
To login to Skype you will need to get the Skype application. It is available for free in Google Store and Apple Store. After you've done, launch the application. It will suggest you to sign in or to create a new account.
All you have to do is type your username and password. When you're done, you will be redirected to the application main page and start chatting right away.
Also take a look at other popular apps that you can use on your smartphone and learn about WeChat Login.
Skype Sign Up: Create New Account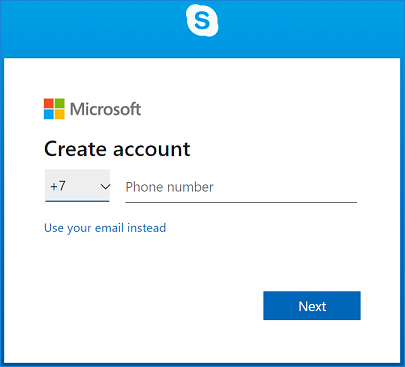 Screenshot of Skype website www.skype.com
Don't have Skype account? Let's set up one for you!
You can create a new account using the desktop version, application or online version. To do so, you will need to go to "Sign in" page and click "No account? Create one!" suggestion below the blank field for the username. After you've clicked it, you will be redirected to the page that will prompt you to enter your phone number or use email instead (example, register an account with Gmail).
Tip: entering phone number makes the future cases of account recovery easier.
After you've picked either a phone number or an email address, you will need to create a password. Skype password must be at least 8 characters long and contain at least two of the following: upper case, lower case, numbers and symbols. The more, the better: strong password is a key to a safe account.
Then you will be offered to enter your first and last names. You cannot skip this part, but it's not necessary to use your real name if you don't want to. After that, you will need to confirm your email address/phone number by typing the code you will get in the blank space. You can't skip this part either.
When your identity is confirmed, you may start enjoying your new Skype Account!
See Also: MSN Mail Account Log In