Juno email sign in allows entering and using Juno webmail service. This article will show how to create, use and maintain your Juno email secure login. It also provides some tips for selecting a secure Juno on the Web login and password, to add to your email content protection from theft.
Trivia: How Juno on the Web Login Works?
Juno email login page allows you to sign in immediately just after opening this page. Actually, Juno email on the Web sign in page is the front page of Juno website! Open it, and you will see a Juno email sign in form: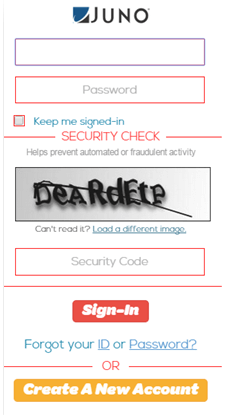 Screenshot of Juno email website my.juno.com
Here we are explaining the function of each component located on this form in details.
The two fields at the top of the form. The first field is for your username, and the second is for your personal Juno webmail password. Please enter these data to continue.
Note: If you are not obtain a login and password for webmail on Juno.com, please create a new account firstly (see below in this list, as well as in the special section of this page).
The "Keep me signed-in" flag. Mark it if you want to stay logged in for an indefinite time. Compared with banking account and business email logins, this option is relatively secure to use it for common private mailings.
The security code control. In the section designated as "SECURITY CHECK", you can see the anti-spam and anti-robot security control combination. Enter to the field named "Security Code" a combination of symbols from the picture just above this field.
The "Sign-In" button. After filling all fields above, please click on this button, and you will enter your Juno webmail account. Principally, this is all you need to use your Juno sign in.
The two links in the string named "Forgot your ID or Password?". Clicking at either "ID" or "Password" link, you will enter a special Juno webmail page allowing you restoring your data for sign in. Follow the instructions to obtain your account data again.
The "Create a New Account" button. If you are just starting using Juno webmail, please click on this button and begin the process of the registration (see a chapter below).
Therefore, all components needed for managing your Juno.com email sign in data are located on this panel. You do not need to open other pages manually or perform extra actions then described here to do anything with your Juno on the Web login when you are using it by a typical way.
Registering a Juno.com Email Log In
Click on a "Create a New Account" option, and you will see the page informing you about Juno.com webmail terms and features. By clicking on an option to proceed (you cannot miss it!), you will see the page that allows you creating a new Juno email sign in data.
Choosing a username. Try to select a name you and other can remember without extra efforts, although avoid too "personal" usernames (e.g. some names too obviously linked to you). If your mail can contain a viable information, try "strong", difficult usernames.
Entering a password. Always choose "strong" passwords that allow you to remember the sequence of password characters part by part but also make decrypting the password sequence a difficult and time-consuming task.
Providing all other required information. Some personal information you must enter can be collected according to modern state and international regulations. Therefore, you must provide all data required from you with a degree of honesty and responsibility.
Giving additional information. Juno collects many data from you, such things as your ethnical minority allegiance and household financial income. You can choose to provide or to hold these data, as the statistical researches of Juno marketing department are probably not your business.
After filling the registration form, click on the finishing button. Your Juno.com email login is active now. You can use it freely, as described in the previous chapter.
Typical Questions about Juno Email on the Web Login
Here you can find some popular questions answers about managing and operating your Juno email secure login.
Q: I cannot find a Juno email sign in form like presented here on the Juno mail on the web main page. What I do wrong?
Answer: Firstly, check if the page you are visiting is a Juno.com email login online. Then try to find a form again. It can appear somewhat different than presented here, as the web designing staff constantly changes the format of any web page. However, all main items will preserve.
Q: Things seems like Juno.com mail login engine suspects me that I am a robot!
A: It is almost impossible with Juno when some robot or hacker use your address for, as an example, "spam" attack. More viable situation is you are failing to enter the anti-robot protection code provided to you when you sign in to Juno email. Check it again.
Q: I cannot log into webmail Juno.com with my sign in pair!
A: Check again the username and password you enter. It is 99% a typing mistake. Or else, try to restore your username and/or password using the instrument provided by Juno.com log in form.
Q: It seems I lose my Juno login/my password too frequently. It can really bring me to despair!
A: Do not afraid. Maybe it is a time to try some password-keeping software solution, like Apple internal key holder or Handy Password for Windows. These solutions can keep all your registration
Q: Can I use my login to webmail.juno.com when setting up a dedicated Juno webmail app or some general email client (like Outlook or Thunderbird)?
A: Sure. The login pair of username and password is unique and permanent for your account, no matter how and from where you plan to use it.
See Also: Bellsouth Email Login, Gmail Sign In, Adelphia Email Login