There are many types of files which could benefit from a password, from your legal documents such as bank statements and photocopies of identification to your personal files such as your Christmas shopping list and holiday pictures, here we will outline the basics of file passwords and how to password protect a folder.
Security Options
Unfortunately windows 10 does not have an in-built option for password protecting a folder and a third party solution is required if you do not want to code one yourself or use encryption tied to your login (which is to say the folder can be opened from the account that put the password on).
Find also useful information about PDF password protection in our next article.
Third Party Software
Popular third party programs that can help you include folder lock, 7zip and private folder. There are many such programs and they are typically easy to use but have different priorities. Programs like folder lock include features such as backup files and password protection for external storage.
Other programs such as 7zip simply add the option to password protect a folder while performing other functions, such as compressing or archiving files in this case.
7Zip third party folder password example: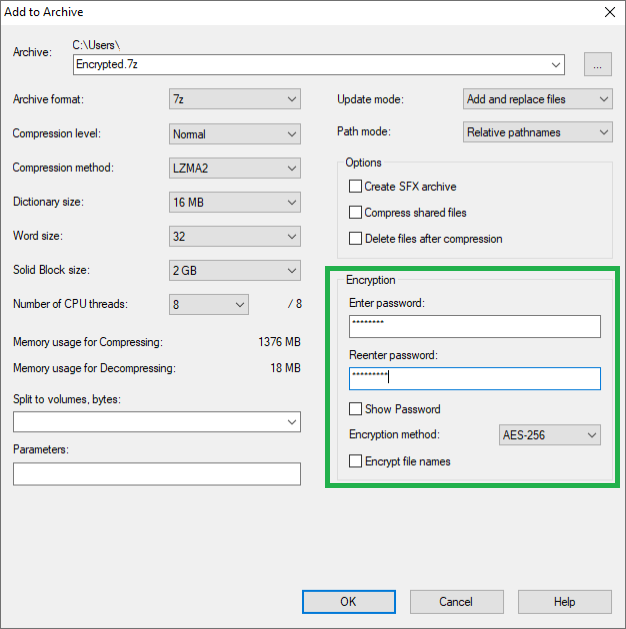 Please note that not all third party programs allow you to reset a password on a protected folder so a lost password can mean needing expert help or even the loss of those files.
Windows File Encryption
If you are worried about lost passwords or security issues in third party software windows does allow you to easily encrypt a file (though not password protect one). To do so simply right click a file, and click advanced on the default general tab that pops up, the bottom option will read "encrypt contents to secure data". Check it's box and that file will only be accessible through your windows login.