PNC mobile is a solution for you if to have an access to money 24/7 without reference to location is your wish. No matter where you are - shopping or walking in a park - you can always stay connected with your funds. With PNC mobile banking you'll always have all tools available at your fingertips.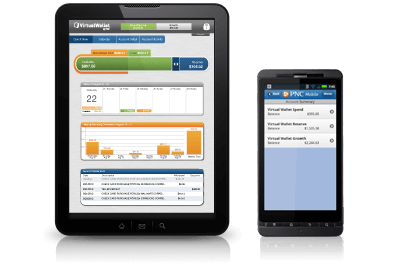 Screenshot of PNC Bank website pnc.com
PNC mobile is available for iOS, Android and Windows 8, so you can go mobile. Discover some of the features available on-the-go with PNC mobile app.
Calendar. You can see on a daily basis how much you earn and spend. You can also see Danger Day, which will be brightly colored to show you a day when costs are exaggerated.
Bill Pay, integrated with Calendar, is for not missing paying bills on time. You can schedule all upcoming payments and make payments straight from your mobile device with PNC bank mobile.
Punch The Pig is a "shake" available only for app users. Just have some fun when saving money. Choose the amount of money, "punch" the pig and money will move from your Spend account to your Growth account.
Location. Use PNC Mobile Banking to find the nearest PNC Bank Branch or other information based on your current location. Also you can search yourself by an address.
Wish List. Do you want to make a trip around the world? Or maybe you dream to buy a car? Then add items you want to buy to your wish list and start saving. Put money toward each wanted item, keep track of your savings and finally move money to your Spend account when a goal is reached!
Security. With PNC's Security Assurance your personal and financial information is secured. It gives you higher protection against fraud, so you can calm down while using the PNC Mobile Banking app.
PNC Mobile customers can use this application on smartphones and laptops. However if you don't have one, don't worry - Text Message Banking will help you to keep track of money even if you are not at a computer at the moment.
See Also PNC Online Banking