PNC online banking allows offsite, Internet-based communications between customer and the bank. You can manage all your accounts in PNC online. Signing in PNC online bank gives you independence from bank office locations, operating hours and so on.
PNC Online Banking provides you with remote management of your banking account. The next article shows the procedures and rules for governing your PNC Online banking account in a most convenient, easy and secure way.
PNC Bank Online Banking Login
To start using pnc.com online banking you need to go to an official PNC Bank web site (official PNC web site is pnc.com; avoid "phishing" websites) and click at "ENROLL IN ONLINE BANKING" under the user ID bar.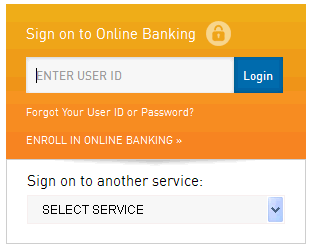 Screenshot of PNC bank website www.pnc.com
Pnc.com will redirect you to another page where you can read about advantages of pnc bank online banking. Also at this page you can find things that you will need to complete the setup process. These things include:
Social Security Number
PNC account number
PNC Visa card PIN or Online Access PIN
When providing this information, you can click the "Get Started" button. PNC online banking registration process will start with information which was mentioned above and ends with the phone verification.
There are three necessary steps to sign on PNC Banking online service:
Enter your Social Security Number (SSN), the main part of your unique identity for PNC.
Enter a PIN of your VISA debit card emitted by PNC, or a PIN for your PNC phone service system.
Enter your unique user ID (obtained when you register in PNC).
Tip: To get additional help with this step, drag the mouse cursor on a little "?" symbol next to the ID field.
After completing these steps, click "Next" and follow the instruction on the next screen, to provide all additional data necessary to log in.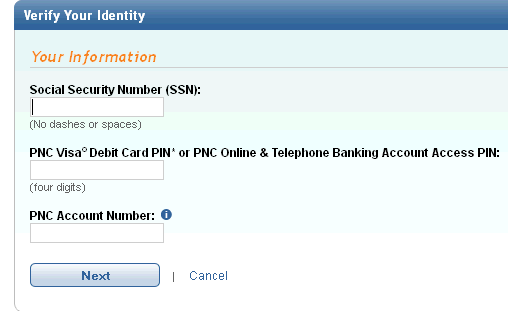 Screenshot of PNC bank website www.pnc.com
PNC online banking service is a convenient way to manage banking accounts for people who are involved in business activity, as well as for clients who are not frequently using their PNC bank personal banking account. You can make payments, check your statements online and do many other things that you can do in an office of the Bank. Today you have a secure and effective online banking tool that gives you an opportunity to transfer money or deposit checks right from wherever you are in!
See Also: BBVA Account in Spain without Resident Visa
Wells Fargo Online Banking
How to Open a PNC Bank Account Online
To open a PNC Bank account online in 2023, follow these steps:
Go to the PNC Bank website and click on the "Open an Account" button.
Select the type of account you want to open from the options available. PNC Bank offers several types of pnc.com personal banking accounts, including checking, savings, and money market accounts.
Enter your personal information, including your name, address, phone number, and email address.
Choose a user ID and password for your PNC online banking account. Make sure to use a strong and unique password that you can remember.
Review and accept the terms and conditions of the account.
Submit your application and wait for a response about PNC online personal banking from PNC Bank. The bank will review your application and may ask for additional documentation to verify your identity.
Once your application has been approved, you will receive a confirmation email and instructions on how to activate your account. You will also receive information on how to set up online banking and access your account through the PNC Bank website or mobile app.
It's important to note that for PNC online banking the Bank may require you to meet certain eligibility criteria in order to open an account. This may include having a valid Social Security number, being at least 18 years old, and having a valid government-issued identification.
If You Fogot Your PNC Bank Login
To recover your login go to pnc.com and click "sing on" button. Then click "forgot ID or password". Your ID is your login to the PNC Bank online banking.
You will be redirected to https://www.onlinebanking.pnc.com/alservlet/ForgotUserIdServlet page. Follow the instructions on the page to recover PNC bank login or password.