Snapchat sign in is the first step in your future messaging with your friends. Wonder how to start? This article will help you!
Snapchat (sometimes referred as Snap or SC) is a multi-media based social media that allows users to chat using pictures. The app is very popular and has 186 million active users. You can become one of them by following the guide below.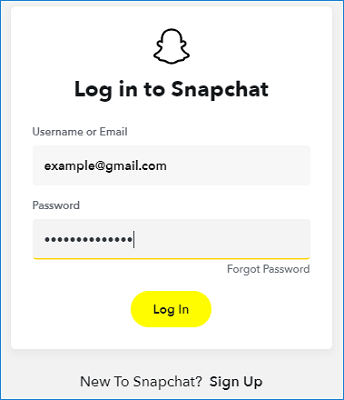 Screenshot taken from website snapchat.com
How to Login on Snapchat
There are two ways how you can use Snapchat - by web version of the app and the mobile one.
Note: you can manage your account through web version, but you can't actually message anyone while you're on this version.
Login on Snapchat Using Web Version
To login on Snapchat Web, you'll need to visit the website page accounts.snapchat.com. On the Snapchat page, you need to enter your username and password, and then click "Login." That's it - now you can manage your account as you wish.
Login on Snapchat Using Mobile Version
First of all, you have to install Snapchat app on your smartphone. One way is through getting the link via the website by going to "snapchat.com", then "Downloads", enter your phone number and the link will go there. Other way is to go to Google Play Store or Apple Store. Install the app and launch it.
The app will greet you with the yellow screen. Tap on "Log In" button (it's white). This will take you to the Login Screen. All you have to do is to enter your username and password and tap "Log In".
How to Sign Up on Snapchat
You can either sign up on web or mobile, the process is similar on both versions.
Snapchat Sign in: The Web Version
First, go to website page https://accounts.snapchat.com/accounts/v2/login. You will see "New to Snapchat? Sign Up" link under the Login box, click her. Then you will be redirected to the Sign Up page. There you will need to type your first and last names (you can use fake ones if you don't want to share your identity online), create username and password.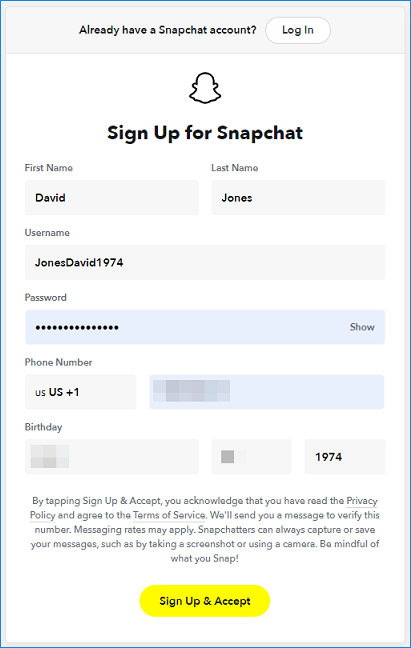 Screenshot taken from website snapchat.com
Username Tip: Snapchat username should be at least 3 characters long and unique. Try to come up with username that will be easy to remember. If you'll ever need to login from different device, you will have to enter your username correctly.
Password Tip: on Snapchat, your password should be at least 8 characters that include upper case, numbers or special characters. This will make your account more secure and difficult to compromise.
The other thing that you would have to enter here is your phone number. You can pick a country code and then type other numbers. Then type in your birth date (you can skip this part if you don't want to share your birthdate). When you're done, click "Sign Up & Accept". You will need to confirm that you're a real person through captcha.
After that you will be redirected to the page where you'll need to verify your phone number with the 6-digits code that will be sent to your phone number. Click "Verify". This will conclude your registration process. Now you can manage your new Snapchat account.
Snapchat Sign In: The Mobile Version
Install and launch the app. Then tap on the "Sign Up" button (it's the blue one). The app will get you started! Tap "Continue" then "Allow" when the app will ask you to.
First of all the app will ask for your first and last name. Type anything you want, no one will make you verify it. Then you'll have to enter your birthdate (you cannot skip it). Then you'll be prompted a username. You can change it if you don't like the prompted one.
Then set a password. It should be 8 characters and contain at least one number and/or upper case. Then you'll need to enter the code that will arrive to your phone. Then the app will suggest you to find friends, etc., but the registration process ends here.
Hope this page was useful! You can also check: