Login on Viber is a question that stands between you and unlimited messaging. To solve this problem, just go down the article!
Viber is a cross-platform freeware application that provides voice over, instant messaging and paid mobile calls. It was developed in 2010 by Viber Media and then bought by Rakuten is 2014. As for now, Viber has over a billion registered users.
Viber registers users through phone numbers, but the desktop version doesn't need the mobile version to be opened to operate (as it is with WhatsApp). Also, unlike WhatsApp Viber can be accessed only if the proper software was downloaded.
How to Login on Viber
There are two ways how you can sign in on Viber. Unfortunately, there are no browser version of the app, so downloads are obligatory. You can either perform Viber sign in using the desktop program or the mobile app. Here's how it's done.
Login on Viber Using Desktop Application
To sign in on Viber by Desktop program you will need to download the app first. Go to website viber.com and click "Download Viber". You can get the version of the app that suits your current operational system. Viber is available for Mac, Windows and Linux.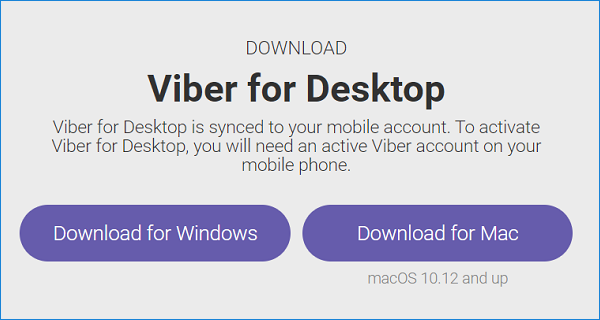 Screenshot of Viber website viber.com
To access Desktop version of Viber you will need to have Viber Mobile. When you've started the app, it will ask you to agree to Terms of Service. If you disagree, close the app and uninstall it. In a case when you agree with the terms, click "Agree".
The login screen with the QR code will meet you. You will need to open Viber on your mobile phone and go to the three rectangles on the lower-right corner of the screen. Tap on the QR-code icon on the upper-right corner of the screen. This will take you to "Scan QR code" and this is what you have to do to the QR code from the Desktop Version screen.
After you've scanned the code, the page will refresh and you can start working with Viber.
Viber Mobile Login
To get to Viber you have to check Google Play Store or Apple Store for the app. Launch the right app and type "Viber" in a search bar. The result will show up immediately. After you've downloaded the app, launch it.
The app will ask you to enter your mobile phone number. Then it will ask you if the number is correct. It is important because Viber will call your number to verify your identity. Don't worry Ђ" you won't need to answer this call, the system will fetch the code automatically. Tap ЂњYesЂќ if the number is right and ЂњEditЂќ if you want to go back to make changes.
After this procedure you're free to use Viber as you please.
How to Sign Up on Viber
Don't have a Viber account yet? Let's set one up for you!
Note: The following instruction is fair for mobile version of the app. For Desktop version of Viber you can only sign in if you already have Viber account.
After you've come through verification process, you will need to Enter your name, date of birth and mail address. You can also pick an avatar and connect your other social media like Facebook to the app. You will need to allow access to your gallery, contacts and login to Facebook if you want to do that.
After you've done that, you can start enjoying Viber to its fullest.
You can also check: