Bill me later is a payment method based on revolving credit system. Bill me later is now called PayPal credit and gives you an opportunity to make purchases over $99 with flexible payment options. Bill me later can be used now in stores where PayPal payments are accepted.
Bill me later also can be connected with Paypal account. Paypal Credit can be used as a payment source on the Ebay in all categories except weapons, adults, alcohol, digital goods and vehicles. To provide payments using bill me later you need to enter your date of birth and last four digits of your social security number.
Paypal Credit system is easy to use because you don't need to wait. It takes seconds to be approved, because long application form are not needed. Your credit conditions depend on how much you spend. Your APR (annual percentage rate) is $19.99. Also you can be offered to pay no interest if you have paid full price of product in certain time (18, 12, 9, 6 months).
Bill me later is now called PayPal credit but if you have already made account on www.billmelater.com it is still available. Your credit line and account information still remain intact.

Screenshot of Bill me later website www.billmelater.com
PayPal credit now isn't available in all online stores. You can find the list of stores where you can buy now and pay later on www.billmelater.com in section store directory.
On the picture below you can see all the important information required for registration on paypalcredit.com. You can't register you bill me later account without that information.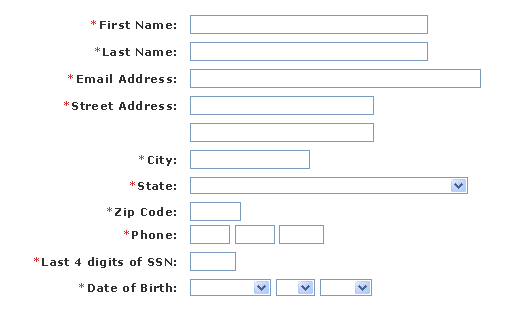 Screenshot of PayPal credit website www.paypalcredit.com
To put it in a nutshell, PayPal credit (formerly bill me later) offers you very quick and convenient credit solutions for you payments via internet.
See Also: PayPal Login My Account