Nowadays, cloud have become extremely widespread. This doesn't come as a surprise, though - cloud storages are quite neat - those little virtual safes hold practically unlimited amounts of data on the vast spaces of the Internet. This makes them accessible not only from everywhere, but from every device the user owns.
Google Drive is one of the most popular free cloud storage services alongside with Microsoft One Drive, Dropbox and Mega. There are 1.5 billion active Google Account users, which mean that every fifth person on the Earth is using Google Services, including Google Drive itself.
How is that possible? Here's the deal: if a person registers a Google Mail address (i.e. a new Google Account), Google attaches its other free services automatically to this new email address. This basically means that every Google Mail user has Google Drive with free 15 GB of cloud storage.
With such an active usage of Google Drive, a rational question arises - how to password protect Google Drive files and folders from unauthorized use? Unfortunately, Google Drive doesn't support adding passwords to your folders. Google considers your Google Account password as a key that unlocks every Google Service available and this should protect your files just enough, because the only person who knows the Google Account password is you. Until your files are shared, they should be safe.
Since Google Drive does not allow to password protect a folder, here are some useful tips for those who don't want to get extreme, but still wish to be protected:
Keep your Google Account password strong

The best way to lose access to your Google Account (and as a result of that, to a Google Drive as well) is to have a weak password like "123456789" or "qwerty". In the era of digital crimes becoming more and more frequent, the passcode should be long and strong; otherwise there is no reason for it to even exist in the first place.

Keep your passcodes close to your heart

Remembering all your passwords is good but not everyone has a memory that good. Encrypted folders are usually almost unbreakable when it comes to a password, and there is no "Forgot your password?" option to retrieve or replace a lost password. It's better to write your passcodes on paper and keep those in a safe place. This way your memory would not be the only place to rely on.

Avoid posting Google Drive links online

If you need to share a document via link, make sure that it would not fall to the wrong hands. Send links using email, SMS, private chats and social network messages. A link posted for everyone to see can become a target of those unwanted visitors we are trying to protect Google Drive from.

Use double-authentication system to ensure no one has unauthorized access to your files

Two factor authentication is a strong method to protect your Google Account with. When a person is logging into an account, the system will ask not only for a passcode, but for a confirmation in the form of a text message or a call. This might sound tedious, but this procedure will make it harder to get access to your files.

Back-up your files

A form of Extra protection that does not require putting a lock on every folder is a back-up service. There are few solutions on the market (i.e Handy Backup), providing the ability to automatically copy, recover and synchronize data that is being stored online on cloud services. The encryption feature is also available, so you can be 100% sure that your files are safe.
But what to do, if there is a situation where you need extra protection? The situations when there are more than one person is using Google Account or when you want to share your files from Google Drive with someone else. Well, for those cases there are a few third-party solutions listed below.
Google Drive password protect folder using a ZIP format files
If Google Drive wouldn't allow to password protect a folder, why not add an already password-protected ZIP file to the storage then? It's very easy to password protect a ZIP file and this method provides the exact level of security that you need. If someone would try to steal your precious documents, they would need to crack the ZIP file's password, not to mention cracking your Google Drive password as well (which is a tricky task due to Google's high security standards).
Secure Google Drive documents using PDF encryption methods
Text files and graphic images can be stored as PDF files, since PDF file format has a feature of holding both types of data in good quality and PDF format allows user to put a password on it. Here's an (are) instructions on how to password protect PDF files and how to convert text or a graphic file to PDF if you need to do it first.
The only disadvantage here is that PDF format wouldn't help you to store music files. Also, to have a lot of PDF drawings might be a little inconvenient.
Secure Google Drive usage by limiting shared link permissions
If you want to share your documents from Google Drive without going extreme with encrypting your whole folder, there is a way to do so by limiting permission for those who would get an access to your documents.
First of all, you would need to create a link. A link is created by left-clicking on the title of the document/folder you would like to share and picking "Get shareable link" option in the toggle menu.
This will trigger this little window to appear: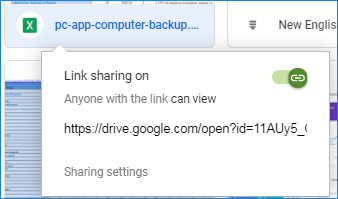 Click on "Sharing settings". If you would click on the little triangle, it will make a row of options to appear: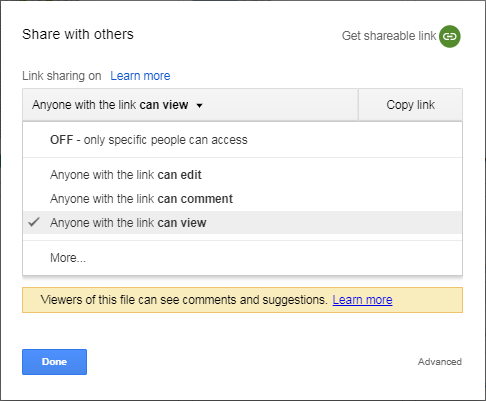 OFF - random people having a link would not have an option to view, edit or comment on a file. Only specific people can access this file. Email addresses of those people should be entered in a blank field under the "People" inscription.
Other options are kind of self-explanatory. When all is done, click "Done". The link will be placed in the clipboard and will be available to be entered anywhere by using "Ctrl+V" key command, or by left-clicking and selecting "Paste".
Note: your link will be just fine without all of those precautions until you send the link to the people you trust only.
Bonus round: How to protect Google Drive on a smartphone
IPhone Google Drive app has a special settings section called "Password Lock". If enabled, this will allow you to create a passcode for Google Drive independently of a Google Account password.
Android devices do not share this feature, but there is a "Cloud Secure" app that would password protect your Google Drive. Note that when this app in enabled, you won't be able to access Google Drive from PC.