PayPal invoice is a professional documet provided via PayPal electronic payment system. It can be used as the fiscal, commercial, legal or statistical document for electronic or regular document management as the testimony of required or completed financial operation via PayPal.
This article tells how to create, send and pay PayPal invoices, being a client of PayPal. Note that for all operations with PayPal invoices you must login to PayPal firstly.
PayPal Invoice vs Request Money
The Request money option provided by PayPal is a twin of the PayPal invoice option, except one thing principal. Requesting money requires payment using a PayPal account from buyer or customer. Sending an invoice allows a receiver to make payments by many methods, like any regular invoice.
Therefore, use a Request money option if all you (and your customer) want to do is to send and receive some money via PayPal, and operate through Create an invoice function when you plan to provide a full-scale invoice with requisites, legal and fiscal approbations and so on.
How to Create a PayPal Invoice
To make PayPal invoicing for some good or service, you can create an invoice via PayPal web tool in the form of electronic document. For doing it, follow the next sequence:
Click on a Request Money option.
Click either on Create a money request or on Create an invoice option.
Note: These two features are almost identical by functioning purposes.
Enter the information required to generate an invoice.
Click on Continue to proceed.
By using this sequence, PayPal generate invoice (or money request) you can send to your customer.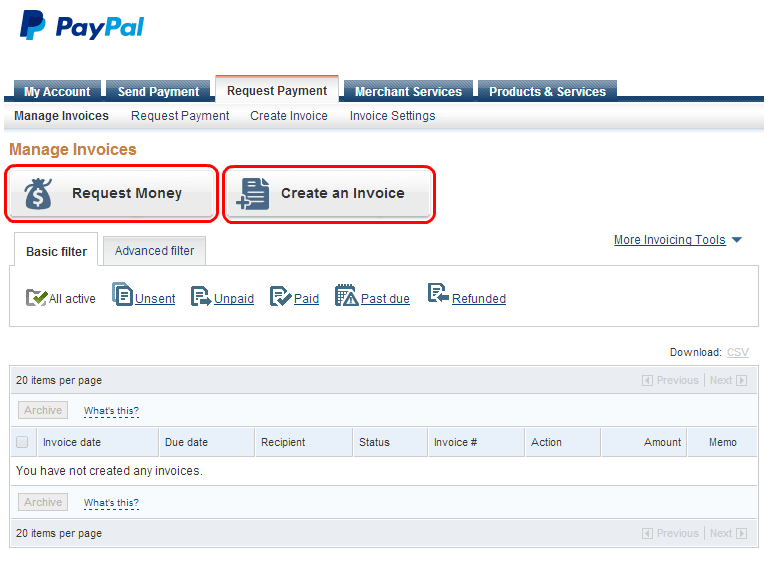 PayPal Invoice Fee
When you are generating a money request or PayPal pay invoice, PayPal charges a small fee from you. Currently, this fee is about a 1.9-2.9% from your total invoice sum, plus $0.30. This fee automatically removes from the sum you will receive for an invoice.
How to Send Invoice in PayPal
To send invoice via PayPal, just make an invoice (see above), then check again all the information you enter (just for reliability) and click on the corresponding option:
Request money - for making money request;
Send invoice - for send invoice with PayPal.
That is all. Customer will receive your invoice, and PayPal will inform that customer about the payment bill received via email notification.
How to Pay PayPal Invoice
To spend a required sum of money and make an invoice payment, you must have that sum on your PayPal account balance. If the amount of money in your account is insufficient, please replenish it before trying to pay off a check of payment for invoice.
When you receives an email from PayPal with money request or invoice, just click on Pay now option in the body of a message. You will be redirected into your PayPal account (log in if it needed), where you can accept payment terms and send money by following the instructions.
Note: You can always select a particular banking card linked to your PayPal account for every single payment by invoice.
An alternative for paying PayPal invoice is using it as a typical invoice, making an invoice payment by other electronic or online method, or even as standard banking payment procedure. How to pay an invoice using any of these methods is far beyond the borders of this article.