PayPal Merchant Services
PayPal merchant account gives the bunch of opportunities for your business. For example, PayPal merchant login may be used for accepting online payments on your web-site. Also PayPal Merchant services the aim of ensuring customers that they can rely on the reputation of your web-site.
There are two main things associated with PayPal:
Fast payments
Security of operations
Paypal Merchant Account
Fast payment experience is attractive for customers in modern world. Security of payments using PayPal merchant service is another feature of PayPal Merchant ID that can be used to lure buyers on your web-site.
Screenshot of PayPal website www.paypal.com
As you can see PayPal merchant is very convenient for customer because they don't need to type in cardholder's information every time they want to buy something. Every necessary data is already stored in their PayPal Account.
Expiration Dates, secret questions, card numbers are your obstacles on the way for higher conversion rates. PayPal Merchant account is the solution of this problem. Let your customer buy easily. Sending invoices to your customers leaves them only one action to be made for purchasing the item.
With a single click bargain is made. Also PayPal Merchant fees have a standard rate. To sum up, there are two most useful features that PayPal merchant has:
PayPal Merchant Login
So to start making PayPal merchant account you need to go to the official website of PayPal and the top side of the page you will see the section called "Business". Clicking on it will be the first step to receive access to PayPal Merchant services.
Screenshot of PayPal website www.paypal.com
At the page where you will be redirected at you need to find big blue button with the sign "Get started for free". After clicking on it you will see the page with the short instruction what to do at the next few stages.
Some facts of your business are required to register on PayPal merchant services. Confirmation of email address is also necessary for PayPal merchant login making process.
After that you will be asked to choose the country where your business located in and language what you prefer. At the next step you will be asked to inform PayPal about the type of your business, Its name, Address, City and Postal Code.
At the next stage of registration the category of your business, country of citizenship, work phone will be required. Business URL and home and mobile phones are required optionally. The next few stages are connected with confirmation of PayPal Merchant account and other methods of security.
Paypal Merchant ID
PayPal Merchant is unique service adopted for the needs of your business. PayPal Merchant Account gives you an opportunity to make the payments and other financial operation for your company. And, of couse, PayPal icon on your website will show the potential customer level of the company.
PayPal merchant is the payment system using which you can accept payments that was made using payment cards and also by the PayPal.
PayPal merchant services are free to use and security of operations is guaranteed.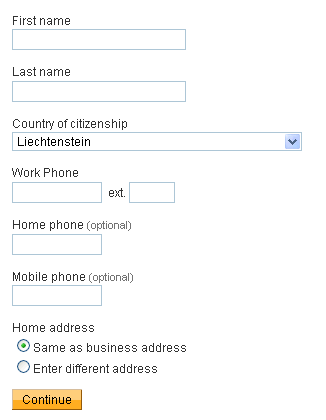 Screenshot of PayPal website www.paypal.com
I'm glad to congratulate you with the start of new era of your business. I hope you will discover all the useful features of PayPal Merchant account such as low fees and higher conversion rates and it will bring your company to the new level.
See Also: PayPal Login My Account
Ebay sign in