Link a credit card to a PayPal account
PayPal credit card payment will become the best way for your online purchases if you add your credit card to a PayPal account. After you add your card you will make payments easily on thousands of websites and make other noncash transactions. PayPal will become a good go-between in all your online operations with the funds.
Security is the main reason why you should link your credit card to a PayPal account. When you make credit card payments with PayPal you use only your email address and a password. Neither card number nor personal details are mentioned. It gives you higher protection against fraud. If you want to make credit card payments with PayPal, follow next steps.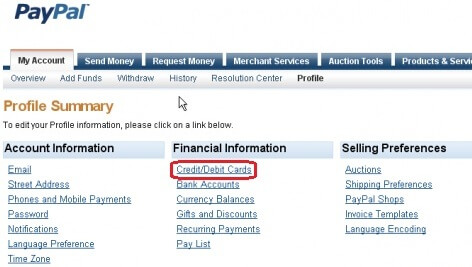 Screenshot of PayPal website paypal.com
Create an account if you don't have it yet. Go to the PayPal homepage by clicking on the PayPal logo and then "Sign Up".
After you joined PayPal click "Credit/Debit Cards. You can find it in ЂњFinancial InformationЂќ on your profile page.
Choose card type - MasterCard, Visa, Discover, and American Express are available. Fill in other fields and click "Add Card".
Now your card is added and you are able to edit it or remove at any time.Online shopping and other online purchases are now protected with PayPal credit card payments!
How to make PayPal credit card payments on eBay
PayPal credit card payment will be available after you link your PayPal and eBay accounts. Create an eBay account if you do not have it yet. Click "register" on the eBay homepage and fill in short registration form. If you already have an eBay account sign in and go to ЂњAccountЂќ page.
At the top left you will see menu with different options where you need to choose "PayPal Account". In the given information you will see a button "Link My PayPal Account". That's what you need.

Screenshot of PayPal website paypal.com
When you have chosen an item on eBay you are sure you want to buy click ЂњBuy It NowЂќ, check information about an item, fill in all needed fields and choose PayPal to make the payment. Ready! Now your credit card payments through PayPal are the fastest possible way of purchasing.
How to link PayPal to eBay
The way to link PayPal account to eBay account is described in this video. Note that this video tutorial assumes that you already have both accounts.
Don't forget always to log out of eBay and PayPal accounts, especially if someone else has an access to your computer.
See Also: PayPal Account, PayPal Gift Card, PayPal Merchant